Sugar-free chewing gum dragées of 1,7 g
Box containing 1 blister pack with 10 chewing gums.
Dietary supplement with L-Tryptophan and plant extracts of Lemon balm and Scullcap Herb useful in cases of reduced dietary intake or increased nutritional requirements.  Scullcap herb promotes relaxation; Lemon balm promotes relaxation and mental well-being.
INGREDIENTS: gum base (soy lecithin, antioxidant: tocopherol); sweeteners: sorbitol, xylitol, mannitol; flavourings; Lemon balm dry extract tit. 2% rosmarinic acid (Melissa officinalis L., leaves); L-Tryptophan; Skullcap dry extract tit. 80% wogonin (Scutellaria lateriflora L., herb); anti-caking agents: magnesium salts of fatty acids, silicon dioxide; artificial sweeteners steviol glycosides, acesulfame K, thaumatin, sucralose; coating agents: talc, gum arabic, carnauba wax, colouring agents: E171, E120, E133.
(*)The plant extracts may contain maltodextrin as support and silicon dioxide as an anti-caking agent.
Recommended daily intake: not more than 3 chewing gums.
| CHEWING POINTS (min) | % TRYPTOPHAN RELEASE (avarage of 2 chewings) |
| --- | --- |
| 0 | 0.0 |
| 5 | 81.9 |
| 10 | 91.2 |
| 15 | 95.4 |
| 30 | 99.4 |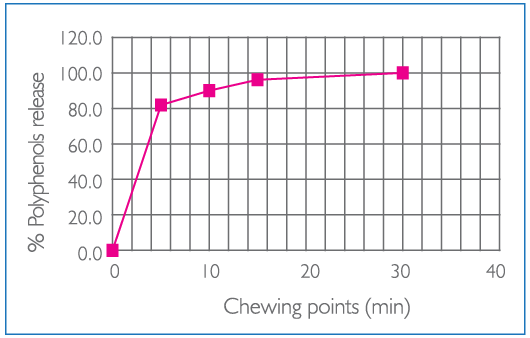 NUTRITIONAL SUBSTANCES WITH PHYSIOLOGICAL VALUE
| SUBSTANCES | Per Serving (3 chewing gums) |
| --- | --- |
| L-Tryptophan | 75 mg |
| Lemon balm | 75 mg |
| Scullcap herb | 60 mg |