Sugar-free chewing gum dragées of 2 g
Box containing 1 blister pack with 10 chewing gums.
Food supplement with Echinacea Angustifolia plant extract, Zinc and non-viable probiotics useful in case of reduced dietary intake or increased nutritional requirements. Echinacea helps the body's natural defenses and functionality of the upper respiratory tract; zinc contributes to normal function of the immune system.
INGREDIENTS: gum base (soy lecithin, antioxidant: tocopherol); sweeteners: sorbitol, xylitol, mannitol; Tyndallized mixture of nonviable probiotics [(L. acidophilus (SGL11), L. casei (SGL15), L. plantarum (SGL07), S. thermophilus (SGSt01); support: maltodextrin; anti-caking agent: silicon dioxide: milk protein, lactose, soy)]; flavourings; zinc gluconate; Echinacea dry extract 4% echinacoside (Echinacea angustifolia DC., Root); anti-caking agents: magnesium salts of fatty acids, silicon dioxide; artificial sweeteners: sucralose, acesulfame K, steviol glycosides, thaumatin; coating agents: talc, gum arabic, carnauba wax, colouring agents: E171, E132, E133.
(*) The plant extracts may contain maltodextrin as support and silicon dioxide as an anti-caking agent.
Recommended daily intake: not more than 4 chewing gums.
RELEASE OF ECHINACOSIDE BY ECHINACEA ANGUSIFOLIA EXTRACT
| CHEWING POINTS (min) | % ECHINACOSIDE RELEASE (avarage of 2 chewings) |
| --- | --- |
| 0 | 0.0 |
| 5 | 97.5 |
| 10 | 99.6 |
| 20 | 99.9 |
| 30 | 99.9 |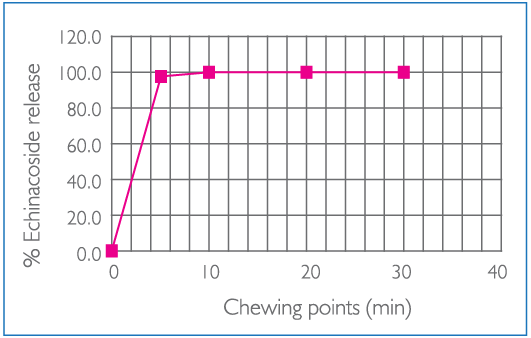 NUTRITIONAL SUBSTANCES WITH
PHYSIOLOGICAL VALUE
| SUBSTANCES | Per Serving (4 chewing gums) | *NVR% |
| --- | --- | --- |
| Non-viable lactic acid bacteria | 400 mg | – |
| Echinacea angustifolia | 60 mg | – |
| Zinc | 10 mg | 100% |